Riceberry Rice
Brown rice
Fiber -rich foods help prevent beriberi anemia.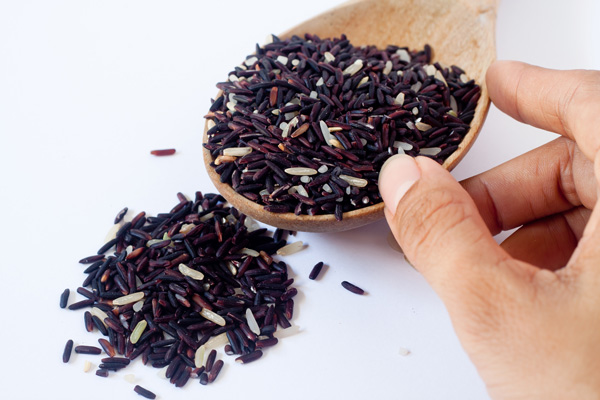 Riceberry Rice is a across-bred of Hom Nil (Black Fragrant) rice and jasmine (Khao Dawk Mali 105) rice.As a result, it has a long shape (like that of Indica rice), and is purple and soft. Riceberry rice can be grown throughout the year.
However, it needs fairly special attention. To grow high-quality Riceberry, the rice must only be cultivated in organic farming with fertile soil in a cool climate.
Riceberry's nutritional characteristics include high antioxidant values, e.g. Beta Carotene, Gamma Oryzanol, Vitamin E, Tannin, Zinc and Folate, with low-medium Glycemic Index (GI).
The significant nutrition in Riceberry includes :
Omega 3 (25.51 mg/kg)
Essential fatty acid: An element which takes an important role in the structures and functionality of the brain, liver and nervous system, as well as helping in reducing cholesterol levels.
Zinc (31.9 mg/kg): An element that helps generate protein and collagen, as well as preventing acnes and hair fall (helping stimulate the hair root).
Iron (13-18 mg/kg): An element that helps generate and distribute energy within our body. In addition of being the crucial element of hemoglobin in red blood cells, Iron is a part of enzymes, which is related to the oxygen consumption within our body and brain.
Fiber: A number of fibers can be found in Riceberry rice. It helps reduce fat and cholesterol levels. In addition to preventing heart diseases, it helps in weight management and maintenance of the excretory system.
Steaming methods : Riceberry is a type of brown rice. The best way to cook it is to mix it with jasmine rice to enhance its tenderness. However, if you prefer a single type of rice in a meal, the best ratio of rice and water is 1: 1.5. The rice should be steamed for around 35 minutes. Once it is cooked, leave the lid open for around 10 minutes and you will get the soft and appetizing Riceberry rice as a result.
Riceberry is a healthy grain. All credits should go to the Thai researchers who succeeded in combining the benefits found in both species into the nutritious Riceberry rice
Certified quality assurance systems GMP, HACCP, ISO 9001 and BRC through the system in 2558.
Head Office
640 Soi Sathupradit 58 Yak 22 (Soi Prasarnchai), Bangpongpang Yannawa, Bangkok 10120
Related Websites