"Thai Rice" Civilization
Brown rice
Fiber -rich foods help prevent beriberi anemia.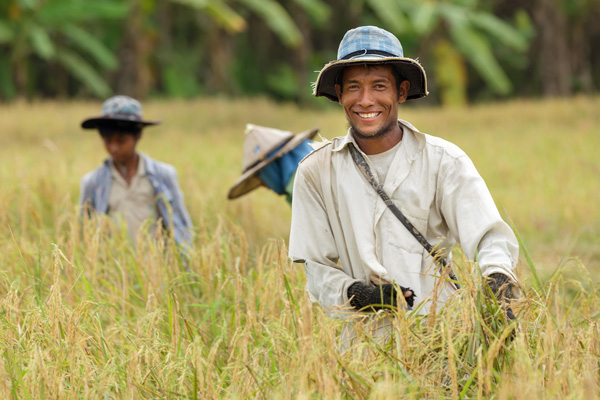 The big grain, such as glutinous rice that grew in the uplands.
The short and round grain, such as glutinous rice that grew in the lowlands (both types of rice had been cultivated even before the Dvaravati period (the 11th- 16th B.E.)).
The long grain, such as Indicarice (or Khao Jao), whose existence trace back to the Srivichai period (the 13th- 18th B.E.). In Sukhothai period, (1740-2040 B.E.), rice planting mostly comprised of the short, round glutinous and the big grains, with the increasing popularity of the long-grained rice. As the lines on the stone inscription goes, "There are fish in the water. There is rice in the fields". The Sukothai kings were very supportive of agriculture, thus yielding an abundant harvest. There was clear-cutting across the land for farming, which in part helped form a governmental, economics and social system. This was presumably the root of Thai feudalism as people started to be divided into classes according to the amount of their lands.
During the early Ayutthaya period, the land had flourished and became a significant breadbasket. The king established
During that time, Siam had to deal with the colonial expansion which also enabled it to conduct international trades with Westerners. As Thai rice had become a significant export product, the officials had to extend farming areas in the plain of the Chao Phraya River in order to increase the crops.
In the present, the round-shaped rice can be commonly found only in the northern and northeastern regions, while the long grains are prevailing in the central and southern regions. Rice fields in the Northeast dominate 45% of the overall areas. Most of the fields grow Khao Dawk Mali 105, which is currently the best species in the world. Therefore, rice grown in this particular area is mainly for commercial purposes. Next to the Northeast are the central and northern regions, which have fairly equal planting areas (around25%).
Today, Thailand is the largest rice producing country and is the center of rice-oriented research. This reflects Thailand's role as the pioneer of grain civilization for the human race.
including "Krom na" or Farm Ministry, which was responsible for the administration of farming. As a result, rice had become the staple food for the populations and was the main provision when the wars took place. From the later Ayutthaya period to the early Ratanakosin period, rice from the central region, which mostly are the species that were recommended by the officials or good-quality local species,
the four ministries,
was subject to rice tax.
Certified quality assurance systems GMP, HACCP, ISO 9001 and BRC through the system in 2558.
Head Office
640 Soi Sathupradit 58 Yak 22 (Soi Prasarnchai), Bangpongpang Yannawa, Bangkok 10120
Related Websites