"Rice" : The World's Staple Grain
Brown rice
Fiber -rich foods help prevent beriberi anemia.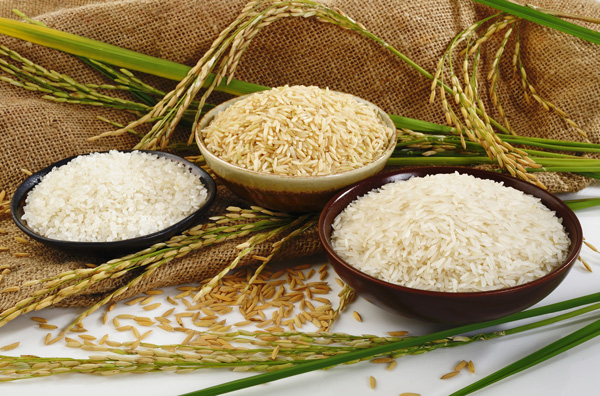 The Origin of Rice

Today, almost all of the rice that is cultivated and traded in the world market comes from Asia.
Rice can be classified into 3 species according to quality and cultivation areas as follows :
Indica rice or "Khao Jao" refers to rice with a long, fine grain and a tall stem. It is commonly grown in the monsoon regions of Asia, including China, Vietnam, the Philippines, Thailand, Indonesia, India and Sri Lanka. The cultivation has later expanded to America as well. In the old days, Thai people used to call Indica rice from foreign countries "Khao Khong Jao" (means "rice of the royals" in Thai). The word was shortened to "Khao Jao" and has been referred to with this name until today.
Japonica rice refers to glutinous rice with a short and round grain. It originated from the North and was transferred through the Mekong delta before the 20th Buddhist era. The rice later spread to countries in the temperate zone, including Japan, Korea, Russia, Europe and the United States of America.
Javanica rice refers to rice with a big and round grain. It is believed to be a cross-bred of Indica rice and Japonica rice. The rice is commonly grown in Indonesia, the Philippines, Taiwan and Japan, but is not very popular due to its low output. As a result, several countries have developed a new rice species in order to increase the cultivation areas as well as methods to enhance productivity.
Certified quality assurance systems GMP, HACCP, ISO 9001 and BRC through the system in 2558.
Head Office
640 Soi Sathupradit 58 Yak 22 (Soi Prasarnchai), Bangpongpang Yannawa, Bangkok 10120
Related Websites